We are now less than a decade out from the self-imposed deadline set by many companies to become carbon neutral by 2030. Similarly, the 2050 deadline set by many countries to this achieve this is looming into view. Big strides will need to be made in order to achieve these targets. But how?
One sector that consumes massive amounts of natural resources, but in our opinion boasts the opportunity for realistic change, is aviation. Successfully reducing emissions would be a big win. In 2019 the sector consumed 8% of all oil1, the equivalent of almost 7.5 million barrels a day.2 In 2020, Covid-19 grounded most airlines leading to a 39% drop in fuel consumption3, but the long-term appetite for air travel will likely still grow – mobility is important. Without policy intervention, however, planes will continue to use fossil fuels, and it is estimated that by 2050 the sector could consume over 14 million barrels a day, more oil than China consumed in 2019 (Figure 1).
Figure 1: Aviation fuel demand and country oil demand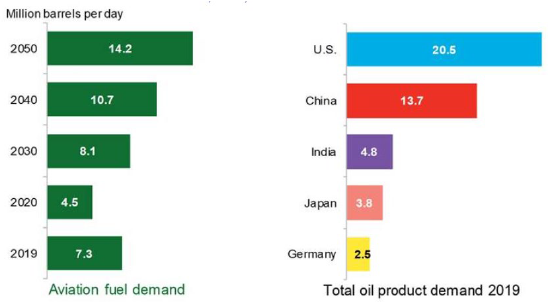 Source: BloombergNEF, 2020
If the demand is to remain, it is surely better to look at changing how planes are powered. This turns the spotlight to alternative fuels such as hydrogen, sustainable aviation fuels (SAF) or electricity. Electric planes may have a future in 25-30 years, but we don't yet have sufficient infrastructure to recharge electric vehicles on roads, or batteries with truly long ranges, so the idea of electric planes remains some way off. Hydrogen is an interesting prospect but, like electricity, requires a completely new infrastructure and technology to make it work, both with the aircraft themselves and at airports. Although there is a drive to invest in solutions such as hydrogen and electricity, for now the focus is on SAF.
We believe a major differentiation between airlines and cars is the massive amount of capital tied up in existing planes – these are assets that are viable for the next 20-30 years and simply replacing them would be prohibitively expensive. Alongside this, the technology is too far out to make them run on different fuels, so the need is for something that can go in the existing tank. SAF can. SAF is made from waste destined for landfill, such as used cooking oil and discarded animal fat, blended with existing fossil fuel.
Although the SAF market is small and early-phase, we see opportunities for investors with a number of companies getting a foothold, among them Neste4, the world's largest producer of renewable diesel and sustainable aviation fuel refined from waste and residues5, and renewable solutions firm UPM.
Market size and penetration
In our view, sustainable aviation is the only way the aviation sector's emissions can be brought down in the medium term, providing a bridge to technologies such as hydrogen and electric planes which are decades out. This creates a massive market.
In 2019, aviation fuel was a 300 million tonne global market.6 The International Air Transport Association's fuel forum projects a 420 million tonne market by 20307, and the World Economic Forum predicts a rise to 510 million tonnes in 2040.8 The European Union accounts for around 20% of this total, and is targeting 14% of this amount for use with SAF, creating 11 million tonnes of demand by 2030 in Europe alone.9
But it is not the size of the market alone that makes SAF an exciting prospect. There is an increasing desire within the aviation industry for reform and regulation. First, firms that have traditionally been devoted to fossil fuels, such as oil refineries, are exploring SAFs – after all, they too have sustainability targets to hit. Second, the pandemic has offered a glimpse of a world with lower carbon emissions, but also made us realise not enough is being done, pushing sustainability up airlines' agendas. Numerous airlines now say they are aiming to reduce their emission to zero by 2050, and achieving carbon neutrality by 2035 – as JetBlue's CFO said, they would rather be driving the bus than be hit by it.10 Neste has signed deals with a number of airlines during the pandemic to increase the use of SAFs, including All Nippon Airlines.11 But the game changer is regulation.
SAFs remain expensive, but mandated blending could force the issue into the mainstream by the mid-2020s. This means governments forcing a certain proportion of SAF fuel use by airlines. Some countries are already moving on this: Sweden is mandating a minimum of 0.5% of SAF in 2021, and France 1% in 2022.12 Holland is considering regulation which would see a 14% blend by 2030.13 In the EU, the ReFuelEU initiative is set to be announced in July 2021, and will likely have a target of blending levels of 2% in 2025 and 5% in 203014, while President Biden is being urged to introduce a pan-US 1% mandate.15 Once mandates are introduced and begin to rise, and regulations improve, scalability will lead to reduced costs and even greater adoption – a virtuous circle.
On top of government support, SAF requires end-consumer pressure to develop. Passengers and corporates, under pressure from increasingly ESG-aware investors, can force airline companies to reduce their carbon footprint and will accept temporary price hikes owing to the cost. A 2% blend for a three-hour flight is estimated to cost each passenger US$2.16
For us investors this is an exciting opportunity. We like to explore themes that play into the UN Sustainable Development Goals (UN SDGs).17 The SAF market is directly linked to a number of these: the Sustainable Transport element of UN SDG 11, Make cities and human settlements inclusive, safe, resilient and sustainable; the Sustainable Tourism element of UNSDG 12, Ensure sustainable consumption and production patterns; and UN SDG 13, Take urgent action to combat climate change and its impacts.
To use an aviation analogy, SAFs are taxiing on the runway, but with technology, the right political will, shareholder pressure and mandate development, they can take off.